As of January 1st, single-stream recycling is available to Gibraltar residents. Now all recyclables (paper/cardboard and containers) can be placed in the same container.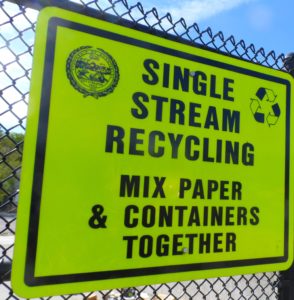 For the convenience of Gibraltar residents and businesses, Going Garbage offers two recycling drop-off sites.

Gibraltar Drop-Off Site
3478 Cty Rd F
Fish Creek, WI 54212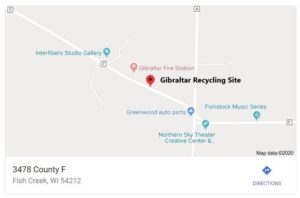 Gibraltar Drop Off Hours:
(May through October) 1st and 3rd Saturday 8 am to 12 pm
(November through April) 1st Saturday 9 am to 12 pm
What Can Be Recycled?
Single-stream recycling is now available. The following items may be placed in the same container:
Paper/Cardboard
newspaper
magazines
junk mail
office paper
container board
corrugated cardboard
catalogs
phone books, etc.
*All paper and cardboard products must be flattened, dry, and free of food debris and restroom waste.
Containers 
Unflattened, unbroken food and beverage containers
glass
aluminum
tin
plastics #1 and #2
* Containers may not exceed one gallon in size, and plastic containers must have a mouth smaller in diameter than the base. All items must be rinsed of food or liquids, and all caps and lids must be removed. Plastic bags used to transport recyclables, caps, and lids are considered regular garbage and are not recyclable.
Going Garbage's full 2020 holiday schedule for residential pick up can be accessed here.