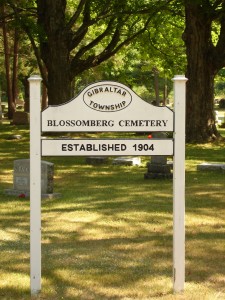 Blossomberg Cemetery
Location: 4010 Mengelberg Lane in Peninsula State Park
Acres: 4 acres
Established in 1904, Blossomberg Cemetery is located inside Peninsula State Park and features two sections. Burial and cremation sites are limited to Town of Gibraltar property owners only, with extended rights to purchase sites available to the mothers, fathers, sons and daughters, and spouses of persons buried in Blossomberg Cemetery. To purchase a burial site, contact the Town Office at 920-868-1714.
For a complete list of cemetery rules and regulations click here.